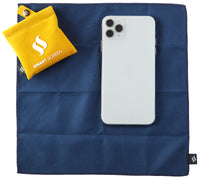 Introducing Smart Screen, perfect partner to your smartphone or tablet.
This revolutionary new antibacterial cleaning cloth and pouch fits neatly in any pocket. Our premium cloth is heavier than most microfibre glass cleaning cloths, making it easier to handle. Small enough to fit in a pocket pouch yet opens up into a generous-sized square. We've introduced a Silver Ion antibacterial agent into the weave process to ensure your Smart Screen kills bacteria on contact and remains effective for up to 15 washes.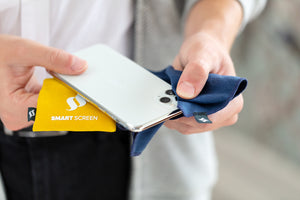 Versatile
Though designed initially for smartphone and tablet screens, this versatile cloth is also ideal for reading glasses or camera lens cleaning.
Premium
A must for any tablet user - this cloth will leave your screens sparkling.  The premium woven cloth has had an antibacterial liquid treatment applied during the weave process.


Designer
Our designer, high quality and durable Smart Screen popper fastening has been added so that the cloth can be easily removed for washing.
Organised
Smart Screen comes neatly packaged and is dispatched promptly, making it the perfect gift for friends and family.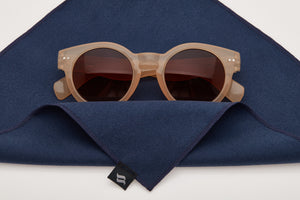 Stylish
Perfect for all glass products, Smart Screen will keep not only your smartphone clean, but your eyewear too.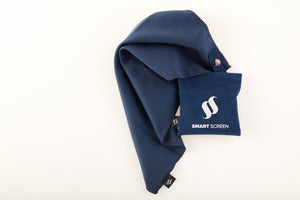 Compact
A lot of cloth concealed in one small pouch. Ideal for keeping on you for every journey.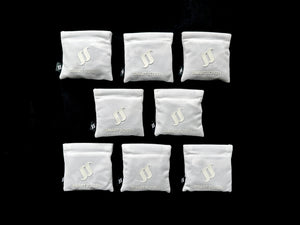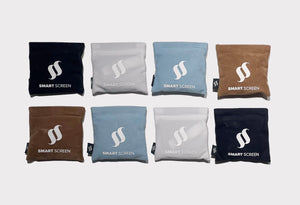 Gold Edition
GOLD EDITION

GOLD EDITION CLOTH

GOLD BUNDLE
Golden moments...
The Gold Edition Smart Screen will make a perfect companion as you set off on your travels.  Designed specifically to clean your smartphone and tech this stylish new design will make you stand out from the crowd.  
I came across Smart Screen as part of a local virtual Christmas market. Seemed like a great idea especially in these cleaning conscious times and great price point for teenage stocking fillers. My order arrived within a couple of days, beautifully and environmentally packaged. The cloths and pouches are great quality and all the pouch colours are really nice. Even better - I now have a clean screen to write this review on and some Christmas presents ticked off!

Jane on Trustpilot
"Beyond all expectations! Rapid delivery, beautifully packed and a lovely handwritten message from Amanda on the invoice - but even better, how gorgeous is the Gold Edition and how amazing the results when I tried it, not only on my smartphone but on my tablet, laptop, specs and sunnies too. The only drawback is that I can't show it off to anyone - well, not till after Christmas, when several of my friends will be getting their own. But they'll have to be very SPECIAL friends to get a Gold Edition, I'm sorely tempted to only have that lovely one myself!!!!"

June on Trustpilot
5* - Everyone should have Smart Screen

Everything about this product is well designed and has a high quality feel about it. I found the website clear and easy to use. After placing my order the product arrived really promptly and well packaged. The product itself is simple and yet so incredibly useful and easy to store. Now I have Smart Screen, I never have to find tissues to clean my glasses, or phone again! I am so impressed by this product that I have ordered Smart Screens for members of my family for Christmas. This product is not expensive and is well made with an ingenious storage pouch that easily fits into a pocket. I definitely give Smart Screen 5 stars and feel everyone should have one.

Catherine Foster on Trustpilot
5* - A brilliant smart phone and glasses cloth

This smart phone or glasses cleaning cloth really works and is a useful size. It comes with a little bag which is great for keeping the cloth clean and tidy in your handbag or work bag.

Gwyneth on Trustpilot
Very useful and makes a great gift!

My Smartscreen order arrived very promptly and I have been using them for my iPad and glasses. I really like the convenient pouch which keeps the cloth clean. They make great presents!

Georgina on Trustpilot
Love the quality, design and functionality of my Smart Screen. My new 'must have'.

F McDonald on Trustpilot
What an ingenious product. I was given a Smart Screen cloth as a present and liked it so much that I sent some to my relatives in Australia! One wipe down of my phone screen and it is clean as a whistle. Great stocking filler idea for Christmas.

Emma on Trustpilot
Must have screen cleaner. It's the bomb.

Was given this as a Christmas present and it's turned out to be one of the best things I got! My iPhone screen looks brand new. So does my MacBook Pro. And all my pairs of glasses. Seriously considering buying another 20 or so and cleaning all the windows in my house.

A Dixon on Trustpilot
The result was jaw-dropping when I used the fabric to wipe my phone screen.

My phone was like a brand new phone. So my friend tried it on his phone and got the same result. I was so excited and cleaned my tablet and got the same result. We did further experiments and cleaned his glasses – wow. I could see myself through his glasses frame, and he was shocked at the differences too.

Sonia - Lifestyle Blogger